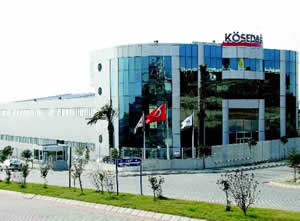 Kösedağ Group
KOSEDAG INC. was founded in 1978 ,as being the first company with term "Mesh Wire and Fence" in its trade name in TURKEY. Trustworthiness, novelty, quality, stability and prestige are the essentials being Kösedağ's rightful success in all over the country. In early years of its foundation,our company manufactured Galvanized or PVC coated mesh wire only ,but today our company KOSEDAG INC. manufactures for large product range using modern technology.

Our Company has been the founder and the leader of the sector in terms of environmental security and it has gained an international fame and quality by following up with the developments in the world sector. It performs complete wire- fence applications throughout the country and abroad, including the material and assembly, with its experienced teams.
Our Company provides the projects of and applies the most developed physical security systems of the world by integrating them into the electronic security systems of SIBERTEK INC. , founded in 1997.
We will always be providing the best with second generation management , our attempts and actions towards being a WORLD MARK in the light of our principles and understanding of management.

SİBERTEK A.Ş
SIBERTEK Electronic Security and Automation Systems Inc. established in 1997 as a brother of KOSEDAG INC., for the purpose of combining primeter security with electronic security and provide solutions together.


SOME OF OUR PRODUCTS:
HYDRAULIC RISING BOLLARD PRODUCTION
PNEUMATIC RISING BOLLARD PRODUCTION
MANUAL RISING BOLLARD PRODUCTION
STATIC BOLLARDS PRODUCTION
ROAD BLOCKERS PRODUCTION
MECHANICAL TIRE KILLERS
PERIMETER SECURITY SYSTEMS
FENCE DETECTION SYSTEMS
MICROWAVE DETECTION DETECTORS
TURNSTILE SYSTEMS
OPTICAL TURNSTILES
MOTOR FLAG SYSTEMS